Study desk GT Racer DS-1901 Light Pink
GT DS-1901 is an ergonomic desk made of environmentally friendly and safe materials. The product can be used by children of different ages, as its height and other parameters can be adjusted to certain requirements. There are no sharp corners in the work surface, which further increases safety for children who study, read and draw at the desk.
The DS-1901 series is presented in models in two color options - blue and light pink. This allows you to buy a desk that will appeal to both boys and girls. Thanks to the laconic design, the product will harmoniously fit into the interior, becoming a great addition to a child's room.
Ergonomics
The GT desk of the DS-1901 model represents a multipurpose and ergonomic product. The height of the table top can be adjusted to the child's height at any time. In addition, the desk is equipped with a mechanism that allows you to transform the work surface into an easel. To do this, simply change the angle of the tabletop from 0° to 45° and lock it in the selected position.
The model has an add-on with shelves, where it is convenient to store books, place stationery, install lights and so on. There is also a book stand, which can be hidden under the shelf if necessary, after which it will be almost invisible to the eye.
The product has two drawers: one is under the work surface, and the other - on the left side of the desk. The first is optimal for storing pens, pencils and other stationery, and the second can conveniently store books and notebooks.
The desk is equipped with rollers that do not scratch the floor and make moving the DS-1901 easier. Special supports securely fix the product in one place, eliminating its accidental shift during operation.
Durability
The GT DS-1901 desk is made of durable materials of high quality. Countertops, shelves and drawers are made of medium-density fiberboard (MDF). The table has a perfectly flat surface, resistant to all kinds of mechanical impact and wear. This is an environmentally friendly and hygienic material that has proven itself in the furniture industry. MDF desks are durable, strong and highly resistant to moisture.
Strong metal legs provide additional reliability to a product as metal is not subject to corrosion, wear, and also mechanical loadings. The wheels and mechanisms of the DS-1901 retain their performance for a long time, even with constant use.
The materials are not only resistant to wear, but also easy to care for. Wet cleaning is enough to easily remove dirt from the work surface, shelves and desk legs.
Main characteristics
Series
DS-1901
Type
Study desk
Surface material
MDF
Legs material
Metal
Easel
There is
Working surface tilt angle
0° - 45°
Bulkhead
There is
Boxes
2
Bookrest
There is
Wheels
There is
Tabletop height adjustment
There is
Weight
56,45 kg
Color
Light Pink
Desk dimensions
Desk height
91-121 cm
Superstructure height
45 cm
Worktop height
46-76 cm
Worktop width
120 cm
Worktop depth
65 cm
Additionally
Additional features
Tabletop thickness: 25 mm
Complete set
Barcode
4820241171026
Guarantee
12 months
Packing Dimensions
3 boxes: 125x68x16,5cm; 68x55,5x26,5cm; 65x38,5x6,5cm.
Weight of packing
66,8 kg
Pre-order
Study desk GT Racer DS-1901 Light Pink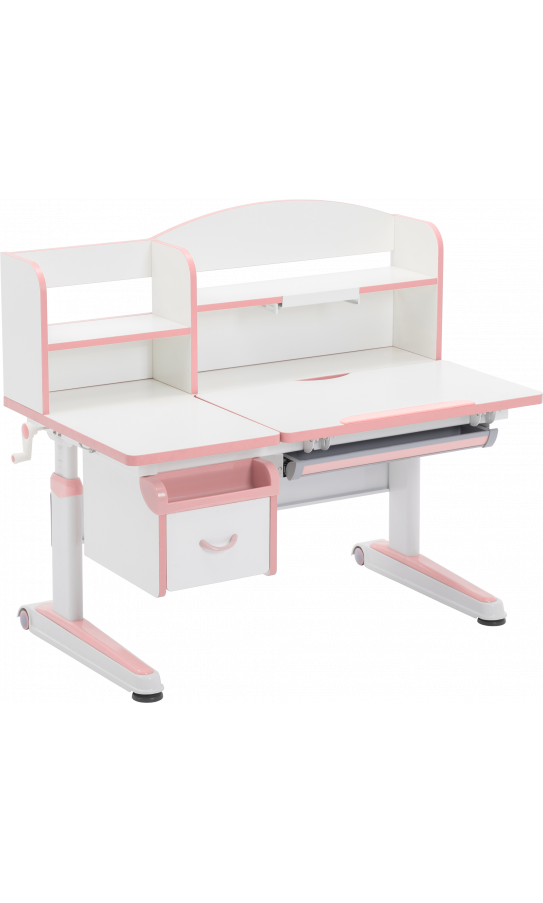 Thanks for your order!
We will contact you as soon as possible.