Study desk GT Racer DS-1703 Light Blue
The GT DS-1703 desk is an ergonomic product equipped with two drawers, a book stand, adjustment and function of an inclination of a working surface at an angle to 45 °. The table top has rounded corners, so it is safe and designed for children of all ages. If necessary, you can change the height of the table. Sitting at such a desk is convenient and comfortable, so the child will not get tired and will be able to concentrate on the learning process.
The main drawer can store various stationery that your child may need, for example, while studying or drawing. The box on the left is larger, so you can store books, notebooks and other bulky items.
This model has a modern design and is presented in several colors - blue, cyan and pink. This allows you to choose a functional desk model DS-1703 for almost any interior of a child's room, in which the product will look presentable and harmonious.
Ergonomics
Children's desk GT DS-1703 can be adjusted by changing the height of the tabletop with a special lever. If it corresponds to the child's height, he will be able to comfortably position his elbows and maintain the correct posture.
The table surface can be tilted and fixed at an angle of 0° to 45°, transforming the product into an easel. This allows the child to take a comfortable and convenient position, which will help to concentrate while working at the desk. To prevent notebooks or the album from falling off the table when tilted, a special barrier is provided on the work surface.
The product is equipped with a convenient superstructure with shelves on which you can place notebooks, a lamp, a photo frame and much more. Also above the work surface is a book stand, which is almost invisible in the folded position. Under the tabletop are two drawers. They increase the working space, as the child has extra space to store stationery and other items.
Legs in the DS-1703 model are equipped with rollers and supports. Thanks to the wheels, you can easily move the product around the room, and the supports securely fix the desk in one place.
Durability
Table top, superstructure and drawers GT DS-1703 are made of environmentally friendly MDF. This material is resistant to the natural process of wood rot, easily tolerates moisture and temperature fluctuations. Products from it are safe for children's health, so they will be the best choice for placement in the nursery.
The legs of the desk are made of high quality metal, which is durable. The material is resistant to mechanical impact, and is easy to clean from dirt and dust. The wheels are strong and durable, and do not scratch the floor when moving the desk to another location.
Main characteristics
Series
DS-1703
Type
Study desk
Surface material
MDF
Legs material
Metal
Easel
There is
Working surface tilt angle
0° - 45°
Bulkhead
There is
Boxes
2
Bookrest
There is
Wheels
There is
Tabletop height adjustment
There is
Weight
54,2 kg
Color
Light Blue
Desk dimensions
Desk height
88-118 cm
Superstructure height
42 cm
Worktop height
46-76 cm
Worktop width
100 cm
Worktop depth
65 cm
Additionally
Additional features
Tabletop thickness: 25 mm
Complete set
Barcode
4820241171064
Guarantee
12 months
Packing Dimensions
3 boxes: 125x68x16,5cm; 68x55,5x26,5cm; 65x38,5x6,5cm.
Weight of packing
55,3 kg
Pre-order
Study desk GT Racer DS-1703 Light Blue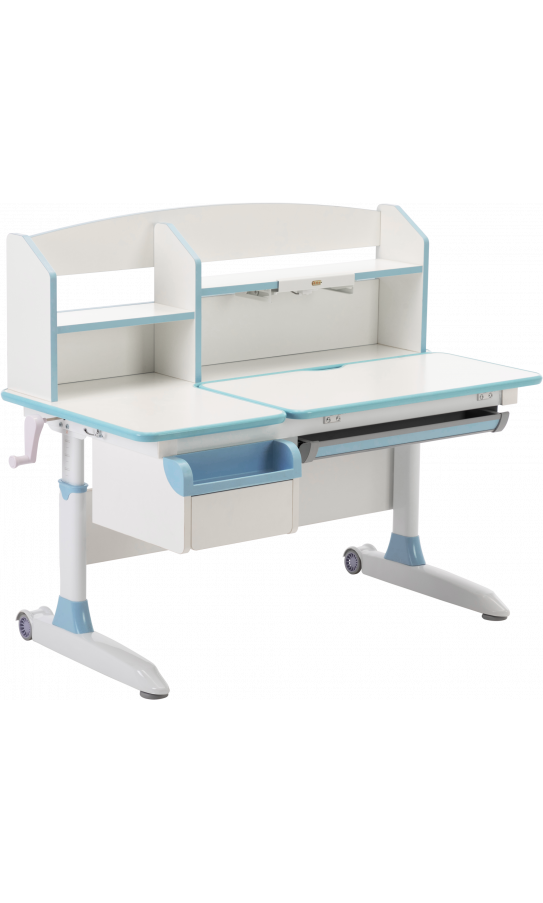 Thanks for your order!
We will contact you as soon as possible.