Chairs set GT K-8764 Fabric Brown (4 psc)
The GT K-8764 chair is a great solution for a modern kitchen with a minimalist modern design. It is decorated in a restrained style, there is no unnecessary decor, a combination with light shades in the interior will be especially successful. The presence of a soft back and seat will make the operation more comfortable.
The medium back height allows for proper back support. At the same time, the chair remains compact enough to be used even in a small space and is easy to transport when needed.
High-quality materials are used to create this chair model, which ensures a long service life. The steel frame guarantees high resistance to damage and various types of mechanical stress. At the same time, the chair remains light enough, which makes it easier to use, but retains its rigidity and stability.
The main body of the chair is upholstered in durable fabric. It is an unpretentious material to maintain and easy to clean. Also, eco-leather is used for upholstery, which by its characteristics is not inferior to its natural counterpart. It is quite resistant to scratches and abrasions, and also gives the product a more presentable look.
The kitchen chair is the final accent in the design of the kitchen, so the overall atmosphere depends on how well this piece of furniture is chosen. Model GT K-8764 is suitable for both spacious rooms and small rooms.
Main characteristics
Series
K-8764
Type
Chairs set
Chair Cover Material
Wear resistant fabric, PU leather
Weight capacity
100 kg
Frame Material
Steel
Weight
11 kg
Color
Brown
Chair dimensions
Back width
Depth
58 cm
Height
97 cm
Height of the back
52 cm
Seat depth
Seat height
47,5 cm
Seat width
Width
42,5 cm
Additionally
Additional features
Complete set
Chair - 4 psc.
Barcode
4820241175529
Guarantee
12 months
Pre-order
Chairs set GT K-8764 Fabric Brown (4 psc)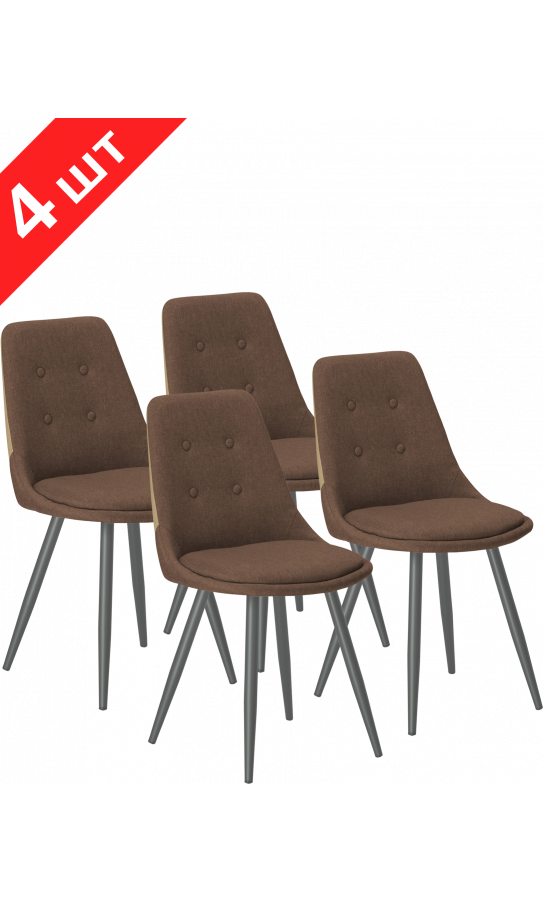 Thanks for your order!
We will contact you as soon as possible.