Gaming chair GT Racer X-2752 Black/Green
Gaming chairs GTRacer X-2752 is an embodiment of functionality, simplicity and ergonomics. Although they do not have removable pillows and complicated mechanisms, they are very easy to use. They can be recommended to those gamers who are not distinguished by the heroic build or high growth, as well as for young people who are only studying the basics of playing arts. Due to the laconic concept of the appearance, such a chair can be installed not only at home, but also in the office, and bright colored inserts will emphasize the individuality of their owner.
The back has an orthopedic structure that repeats the natural S-shaped curve of the human spine, providing support for the pectoral and lumbar sections. In this model, the head restraint is sewn, which makes it possible from time to time to throw it away, plunging into considerations, or just relax. Due to such a design, the pressure on the spine is reduced, and the load from the shoulder section is removed.
Each person can be stressed because of tense gaming battles, as well as office work, which is associated with high emotional stresses. Therefore, the GTRacer X-2752 series provides a swing mechanism that is activated by the bottom switch located under the seat. Thus, you will be able to alternate the work with rest. Curved armrests have two fixing points and soft upper caps for the best gaming position. Their design allows you to move the chair as close as possible to the table.
The solid basis and telescopic rack are responsible for the reliability of the structure and its height adjustment according to the height of the user. This model can rotate around its axis by 360 °, which allows you to perform all the necessary actions without rising from the chair. Reliable five-beam cross-sections end with wide nylon rollers, which slightly slip floor coverings without leaving traces on it. The armchair can withstand a rather large mechanical load, indicating resistance, which opens up a wide field for you to work and express your emotions without risking of falling down.
The new model combines the latest materials, high-quality assembly and democratic price. The material of the covering is manufactured leather PU, consisting of three layers. The top cover of the finest layer of polyurethane gives it softness and elasticity. It easily withstands high mechanical loads, is not afraid of scratches and dirt, easily cleaned and resistant to temperature fluctuations. The main distinguishing feature of such a coating is the complete lack of unpleasant odors and the disability to absorb it from the environment. In addition, it does not prevent the free circulation of air.
This series of armchairs received side inserts on the back and seat from the mesh fabric of Air Mesh, which, due to its volumetric weaving, does not prevent ventilation, and also highly resistant to deformations, preserving its original appearance for a long time. The filler is polyvinyl chloride, which received a special foam structure. This material is quite durable, elastic, soft, not crumpling during the operation. It has an excellent elasticity, quickly returning its original form after the cessation of mechanical impact. Polyvinyl chloride is not afraid of temperature fluctuations and allows air to circulate freely inside the seat.
Main characteristics
Filler material
PVC
Series
X-2752
Type
Gaming Chair
Seat
Soft
The design of the base
Beam support with wheels
Backrest
The back is not discarded
Chair Cover Material
Air Mesh
Armrests
Unregulated
Material of armrests
Plastic with soft overlays
Weight capacity
120 kg
Mechanism Type
Tilt (swing with fixation)
Adjustable seat height
Gas Lift Eurostandard
Frame Material
Steel
Diameter of the base
70 cm
Number of wheels
5-star base
Weight
14,5 kg
Color
Black-green
Height min.
110 cm
Height max.
120 cm
Dimensions
Chair depth
65 cm
Chair width
58 cm
Height of the back
72 cm
Additionally
Additional features
Adjustable seat height; Fixing seat position;
Complete set
Back - 1; Sitting - 1; Cross-section - 1; Pneumopathron - 1; Armrests - 1 set; Rollers - 1 set; Screws for mounting - 1 set; Installation Instructions - 1;
Barcode
4820226200369
Pre-order
Gaming chair GT Racer X-2752 Black/Green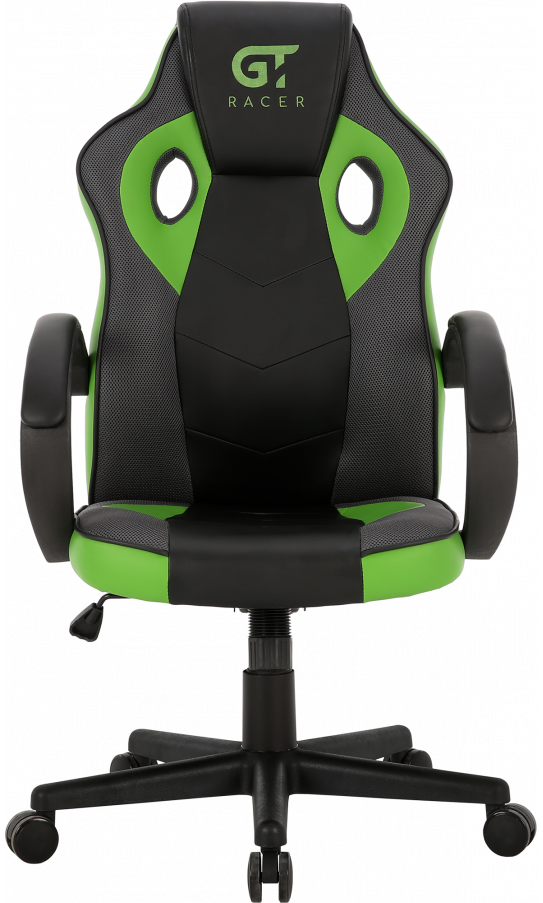 Thanks for your order!
We will contact you as soon as possible.